Walmart helps Boston Children's Hospital community live better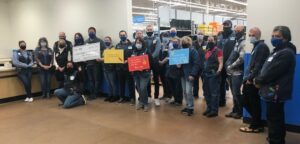 Three cheers to the 20 Walmart stores in Massachusetts and New Hampshire which donated $17,500 in Local Community Grant funds to Boston Children's Hospital this year! The impact of their generosity can be felt right in their local communities, many with patients from their city/town visiting Boston Children's hundreds of times each year.
Grants from these stores benefit Boston Children's Every Child Fund, which supports family-centered care so parents can focus on what's most important – their child's health.
The Every Child Fund brings joy into the hospital with celebrations, pet therapy, arts, and laughter to ease fears and hasten healing. This unrestricted fund allows Boston Children's Hospital to find solutions others can't, by tackling childhood diseases from every angle. Each dollar directly supports this lifesaving work.
Our patients and families receive world-class care because of the compassion of these Walmart stores. From the bottom of our hearts, we thank you!
Walmart Store #1753 in Derry, NH
Walmart Store #1762 in Seabrook, NH
Walmart Store #1918 in Bellingham, MA
Walmart Store #1930 in Plaistow, NH
Walmart Store #2021 in Raynham, MA
Walmart #2118 in Lunenberg, MA
Walmart #2142 in Salem, NH
Walmart #2155 in Gardner, MA
Walmart Store #2158 in Northborough, MA
Walmart Store #2180 in Danvers, MA
Walmart Store #2330 in Rochester, NH
Walmart Store #2336 in Plymouth, MA
Walmart Store #2341 in Quincy, MA
Walmart Store #2629 in Whitinsville, MA
Walmart Store #2797 in Sturbridge, MA
Walmart Store #2964 in Leominster, MA
Walmart Store #3200 in Weymouth, MA
Walmart Store #3560 in Fall River, MA
Walmart Store #4387 in Worcester, MA
Store #5448 in Raynham, MA