Boston Children's Hospital Lifesaver Awards 2021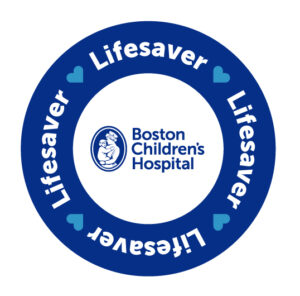 Cheers to our recently recognized Boston Children's Lifesavers!
Boston Children's Hospital Lifesaver Awards were presented to these Children's Miracle Network fundraisers who went above and beyond to make miracles for our young patients this year. We honor their compassion, dedication, and great success in raising funds. Because of their efforts, many kids have a better chance for a healthy future!
Rocky's Ace Hardware Locations add more and more CMN fundraising initiatives to their calendar each year. In 2021, they had four point-of-sale campaigns asking customers to round up their purchase at the register. Rocky's website is also updated to show their customers the impact of giving at the register.
The Merrill's at Dairy Queen Treat in Laconia, NH are franchise owner/operators who inspire their employees to understand the importance of raising money for a great cause. True believers in "paying it forward", they have a proud history of supporting their local community. And when a cause is dear to Michelle and Mike, everyone steps up to boost their efforts.
Proletariat Inc. in Boston assembled a mighty, year-round fundraising team and hosted a 2-day livestream for Children's Miracle Network's National Game Day in November. They united gamers, fans and an awesome patient family to play together in support of critically ill kids at the hospital.
Lisa Parr and Steve Thibeau from Rite Aid Corp. championed a terrific point-of-sale campaign this year. They showed outstanding leadership, keeping their teams engaged and motivated, which inspired their customers to donate at the register. They led by example in a way that created excitement—not only in their region but across the nation.
Thank you to our 2021 Lifesavers. Their efforts and advocacy are LIFESAVING for so many children in our community.