The Rite Aid Foundation donates to Boston Children's Hospital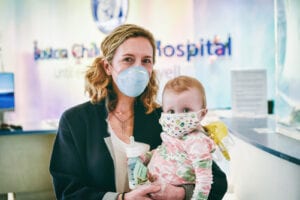 The Rite Aid Foundation recently made a $250,000 donation to support nine Children's Miracle Network Hospitals during the COVID-19 pandemic—including Boston Children's Hospital.
The funds will allow Boston Children's Hospital to direct the money to their Every Child Fund which empowers them to respond to a changing world with one goal: to give every child a healthy future. The gift will provide essential support and will show faith in their mission. Boston Children's is having an unprecedented demand on their resources. Their beds are filling up with the sickest children who need their help – more than ever — during the COVID-19 pandemic.
Matt DeCamara, Executive Director of The Rite Aid Foundation, explains, "These are extraordinary times, and the efforts of CMN Hospitals to support healthcare providers and affected patients is very important and impressive. Across the country, children's hospitals have found themselves joining the frontlines of this pandemic, offering everything from needed beds to valuable medical equipment. As a longstanding partner, The Rite Aid Foundation is proud to stand with CMN Hospitals during a time when collaboration and partnership mean more than ever."
Recipients of the grant include:
Beaumont Children's in Detroit, MI
Boston Children's Hospital in Boston, MA
Children's Hospital Los Angeles in Los Angeles, CA
Children's Hospital of Philadelphia in Philadelphia, PA
Cohen Children's Medical Center in Long Island, NY
Geisinger Janet Weis Children's Hospital in Danville, PA
Penn State Children's Hospital in Hershey, PA
Seattle Children's in Seattle, WA
UPMC Children's Hospital of Pittsburgh in Pittsburgh, PA
Rite Aid has a long-standing tradition of supporting Boston Children's Hospital, having been a partner for the past 24 years. In 2019, Rite Aid raised $393,304 through foundation gifts and the icon campaign for Boston Children's Hospital to support research, equipment and programs including Child Life Services.