Thank you, Marriott associates
This week Marriott is celebrating the company's 90th anniversary and its annual Associate Appreciation Week. We also want to thank the associates for raising more than $115 million over the last 34 years to help kids treated at Children's Miracle Network Hospitals.
Here are the stories of five amazing associates who represent the thousands of dedicated Marriott associates in the U.S. and Canada:
Nicole Duvall, Residence Inn Maui-Wailea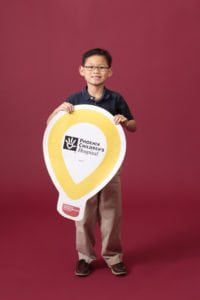 During Nicole Duvall's 22 years (and counting) with Marriott she has been actively involved in fundraising for Children's Miracle Network Hospitals in Massachusetts, Arizona and now Hawaii.
It's no surprise, then, that Nicole and her husband had no qualms adopting a child with a congenital heart defect because they knew the staff at Phoenix Children's Hospital would be able to take care of him. Sure enough, their son Sammy received the care he needed (including heart surgery) and is well and healthy today.
In her various roles with Marriott, Nicole has led the way in fundraising efforts for the CMN Hospitals in her area. At the Residence Inn in Maui she and the team sell cookies year-round to benefit Kapi'olani Medical Center for Women & Children. They also sell aloha flowers at the front desks. During their annual Root Beer Float Day Sammy himself even comes and sets up a table to sell floats. Nicole says he easily gets more donations then she does at the event.  "People just throw money at him."
"Marriott has given us the opportunity to help, and I'm so grateful to work for a company that makes a difference in our community."
Kathryn Budd, JW Marriott Orlando, Grande Lakes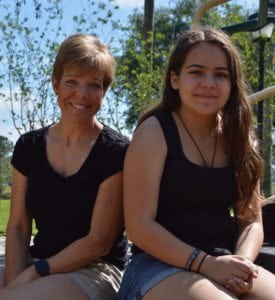 Just after Christmas in 2009, Kathryn's daughter Alexis woke up screaming in the night because of an excruciating headache. Within hours, Alexis was in surgery at Arnold Palmer Hospital for Children, due to a cerebral hemorrhage on the left side of her brain. Despite a diagnosis of arteriovenous malformation (AVM), Alexis has overcome her challenges and is now a healthy and active teenager. Both Kathryn and Alexis are actively involved in fundraising for Arnold Palmer Hospital for Children through speaking engagements, races and more.
Mary Jo Ferrazza, JW Marriott San Antonio Hill Country Resort & Spa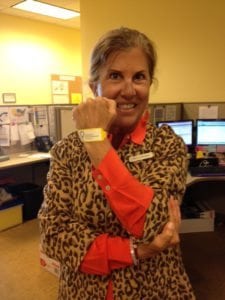 As director of resort experience, part of Mary Jo Ferrazza's job is to lead the resort's philanthropic initiatives. She sees this part of her job as her chance to make a difference in kids' lives. Mary Jo's 34-years at Marriott (mainly in events) has given her the skills needed to organize a variety of fundraising events to support Children's Hospital of San Antonio. Under her leadership, the resort hosts Random Acts of Kindness events, parking raffles, a golf tournament, pin sales and many other events dedicated to raising money for the local hospital.
Sarah Dechert, Courtyard Dallas Las Colinas
When Sarah Dechert's grandson William was born two years ago doctors and nurses noticed he couldn't get his body temperature up and immediately rushed him to Children's Medical Center Dallas. Shortly thereafter doctors discovered that William's heart valves were reversed preventing his blood from getting oxygenated. At just eight days old William underwent open heart surgery to correct the problem. Today he's a very energetic 2-year-old. Prior to William's surgery, Sarah was actively involved in fundraising for CMN Hospitals because it just made sense to her given the local impact her efforts yielded. As she continues to fundraise, her efforts are more personal than before.
Helen Forbes, Fairfield Inn Anaheim Hills Orange County
Over her 21 years with Marriott, Helen Forbes has always been involved in fundraising for Children's Miracle Network Hospitals. Her first exposure to the power of children's hospitals came when her newborn granddaughter spent the first seven days of her life at CHOC Children's. Of the experience, Helen said, "It was at that point that I committed to doing everything I could to support fundraising efforts for the hospital."
Now Helen and her staff are fully engaged in fundraising for CHOC, whether it's participating in the annual CHOC Walk in the Park, hosting bake sales, handing out root beer floats to guests who donate or selling raffle tickets. Helen and her team try to do some sort of fundraiser every month to benefit the hospital.