Thank You Beary Much!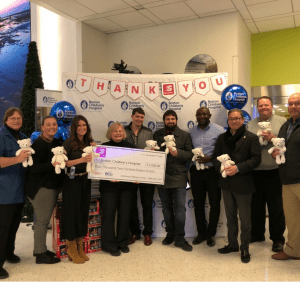 Last week, our friends from the Speedway New England Region delivered a heartwarming gift! They delivered a $4,200 donation on behalf of their Speedway employees that will allow for our Child Life team to purchase over 400 Teddy Bears for their Teddy Bear Clinic which will enhance our patients and families hospital experience. Thank you for your commitment to helping kids!
The Speedway Teddy Bear employee giving initiative was a collaboration of Speedway's regional leadership team, the CMN team, and Child Life Services at Boston Children's Hospital. During the month of November, Speedway employees raised personal funds to buy Teddy Bears for Boston Children's during the holidays. This program is special because Teddy Bears serve an important purpose in our Child Life Department. These Teddy Bears are going through medical treatments with our patients in a variety of ways; they serve as a tool to help our patients learn what to expect and help them to understand what is happening to them while they are in the hospital.
What Happens in the Teddy Bear Clinic?
Our Child Life Services holds a teddy bear clinic every quarter for inpatients and patients/families that are here for outpatient clinic appointments. This program is designed to take patients through a health care adventure at Boston, Children's Hospital. Patients are be able to play and engage in medical play activities, hospital themed arts and crafts, games and discover developmentally appropriate information about health care. From taking heights and weights, to getting an x-ray and a cast, our Child Life department pulls out all of the stops.
With the funds raised by Speedway, Child Life will be able to provide more bears to more patients. Thank You Speedway!