Rite Aid celebrates milestone fundraising for CMN Hospitals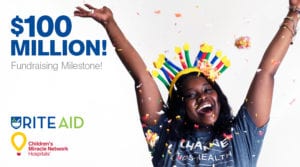 Rite Aid has a long-standing tradition of supporting Boston Children's Hospital, having been a partner for the past 25 years.
In 2020, Rite Aid donated more than $268,000 to Boston Children's Hospital to help pediatric patients and their families access the specialized care they need today. These funds will help families impacted by these extraordinary times we've been through this year by supporting the Every Child Fund. This unconditional gift helps us respond to a changing world with one goal: to give all children a healthy future. Every penny goes directly to support Boston Children's lifesaving work.
Donations collected at your neighborhood pharmacy location help change the future of a local child.
In total, Rite Aid has raised more than $5.6 million for pediatric patients treated at our hospital since 1996 – including research, equipment and programs such as child life services.
As a member hospital of Children's Miracle Network Hospitals, Boston Children's is grateful to Rite Aid customers and corporate partners who have collectively donated more than $100 million to kids treated over the past 26 years!
Thanks to Rite Aid, kids in Massachusetts, New Hampshire and beyond are getting the care they need today. Together, we are changing kids' health and changing the future—for all of us.