Rite Aid Campaign Supports Kids Treated at Boston Children's Hospital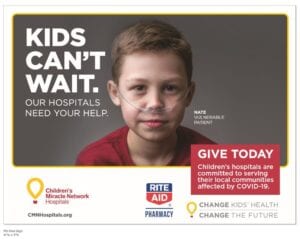 Boston, MA, July 13, 2020 –  As part of Rite Aid's continued support of Boston Children's Hospital, the company and its Massachusetts and New Hampshire customers will come together July 12-August 8 to raise lifesaving funds to change kids' health and change their future.
The campaign comes during a critical time when the COVID-19 pandemic continues to create extraordinary need across the country, including here in Boston. Funds raised will help kids like Emma. She's had complex care at Boston Children's after being born early with airway complications. Emma was one of the first patients to have a minimally invasive surgery to connect an opening in her airway. She also underwent a procedure pioneered at Boston Children's to allow her to breathe more easily. Emma continues to receive monthly care to help fight infections, and courageously takes on the world each day with a smile.
As part of a four-week, nationwide campaign among all 2,400 Rite Aid locations, customers can add a donation to their in-store transactions or donate via social media. Contributions will fund urgent treatments, pediatric medical equipment and charitable care. At Boston Children's every dollar you give heals, supports and helps find cures. Caring for a child includes costs adult hospitals don't have—special-sized equipment to fit kids from the tiniest preemie to an adult-sized teen, extra support for families and research that unleashes cures to our most challenging childhood diseases.
This year's campaign celebrates the 24th year that Rite Aid has helped patients at Boston Children's Hospital. To date Rite Aid and its customers have raised and donated $5,510,743 in support of pediatric patients in the New England Region.
"The ripple effects of COVID-19 have affected nearly every aspect of treatment and services for children's hospitals and without the help of caring partners like Rite Aid, many may face significant impacts in the short- and long-term," said Teri Nestel, interim president and CEO of Children's Miracle Network Hospitals. "All dollars Rite Aid customers, associates and supplier partners raise truly changes kids' health and changes their future in every community our member hospitals serve."
The Rite Aid Foundation will also direct funds raised through KidCents, its customer-generated charitable giving program dedicated to improving the health and well-being of children living in communities Rite Aid serves, to Children's Miracle Network Hospitals through the duration of the fundraising campaign.