Local Walmart Stores Supporting Their Communities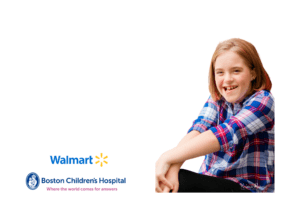 In 2020, a year like no other, 11 local Walmart stores donated grant funds to Boston Children's Hospital. Grants from these stores through the Walmart Foundation benefit Boston Children's Every Child Fund, which supports family-centered care so parents can focus on their child. The Every Child Fund brings joy into the hospital with celebrations, pet therapy, arts, and laughter to ease fear and hasten healing; kindness that insurance doesn't cover. This unrestricted fund allows Boston Children's Hospital to find solutions others can't, by tackling childhood diseases from every angle. Every penny goes directly to support this lifesaving work.
Our patients and families receive world-class care because of the compassion of these Walmart stores in a year when it was needed most. Thank you for being a partner of Boston Children's and helping kids like Emma!
Walmart Store #1762 in Seabrook, NH
Walmart Store #1785 in Hudson, NH
Walmart Store #2021 in Raynham, MA
Walmart Store #2095 in Wareham, MA
Walmart Store #2139 in Lynn, MA
Walmart Store #2158 in Northborough, MA
Walmart Store #2902 in Framingham, MA
Walmart Store #3114 in Saugus, MA
Walmart Store #3491 in Methuen, MA
Walmart Store #3560 in Fall River, MA
Walmart Store #4387 in Worcester, MA