Local Walmart and Sam's Club stores to raise money for Boston Children's Hospital
Local Walmart and Sam's Club stores to raise money for Boston Children's Hospital
National campaign nearing $1 billion in fundraising for Children's Miracle Network Hospitals
SALT LAKE CITY – Local Walmart and Sam's Club stores are once again joining forces to raise money for Boston Children's Hospital during the annual Children's Miracle Network Hospitals (CMN Hospitals) campaign.
Walmart and Sam's Club associates customers and members have raised $15,032,619.87 for Boston Children's Hospital since 2002. On a national level, Walmart and Sam's Club are closing in on the $1 billion fundraising mark for CMN Hospitals in the U.S. and Canada.
"We couldn't be more grateful for the outstanding support that our local CMNH Walmart stores, their associates & customers have made possible for our patients & their families here at Boston Children's over the years" says Carola Cadley, VP of Corporate Development and Special Events at Boston Children's Hospital.
Money is raised primarily through a register campaign where customers and members contribute $1 or more when they checkout. Associates also fundraise in other ways including bake sales, in-store contests and events.
The 2016 campaign raised $810,259.36 for Boston Children's Hospital.
Fundraising for Children's Miracle Network Hospitals helps kids like Victor who was injured when a tree fell on him while he was cleaning up after Hurricane Matthew last year. Victor's mother is a support and personnel manager at a Walmart Neighborhood Market and has been an active fundraiser for CMN Hospitals. Little did she know that her own son would need the services of her local CMN Hospital. Thanks to his hospital, Victor is doing well and is back to setting records on his high school track team.
This year's register campaign runs until Oct. 29. Customers and members can conveniently donate $1 or more when they check out at any eastern MA or southern NH Walmart or Sam's Club stores.
Money raised at Boston area Walmart and Sam's Club stores goes directly to benefit the sick and injured kids treated at Boston Children's Hospital. Funds are used to pay for equipment, research, supplies, charitable care and a variety of other needs the hospital has.
Walmart and Sam's Club joined the CMN Hospitals fundraising family in 1987 with Sam Walton himself being personally involved in the beginning of the relationship between the organizations. The fundraising campaigns supports Walmart's goal of giving back to local communities.
"Since I started in this position in 2004, every year I become more passionate about helping Boston Children's Hospital. It stems from the first time we all met at the hospital and we went on the full tour. Seeing the kids with brave faces and smiles a mile wide trying to stay strong for their parents. I think I speak for all who came that day when I say, it hit me hard and made me realize how fortunate I was to have a healthy daughter (who was only 8 at the time).
Walmart has strong commitments to the local communities, but the commitment to CMN and their local children's hospital is definitely the biggest commitment of all. Most associates either has/had their child there, or knew someone who has been there. All year long our associates become very passionate about helping the hospitals, but more importantly these kids. It's a great feeling walking into our stores and hearing the cashiers working together as one or seeing the associates in the lounge having bake sales or pot lucks for donations. We may have thousands of associates, but we are all trying to attain the same goal" says Michelle Gagnon, Walmart Market Assistant, Market 156.
Customers and members can help spread the word about the campaign via social media using the hashtag #HelpKidsLiveBetter.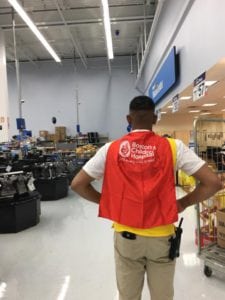 About Boston Children's Hospital
At Boston Children's Hospital we're pushing the boundaries of what's possible through clinical research and medical breakthroughs that save lives and transform how health care is delivered both here and around the world. With an almost 150 year history of pioneering advances in children's medicine- many of which also improve adult care- Boston Children's has a pedigree of driving innovation. We are the world's largest research enterprise at a pediatric institution, with 1,400 researchers and support staff, and more National institutes of Health (NIH) funding than any other pediatric medical center. We are also the top-ranked children's hospital in the nation- number 1 on the U.S News and World Report "Best Children's Hospitals" 2017-18 Honor Roll and first in 5-10 evaluated specialties.
About Children's Miracle Network Hospitals
Children's Miracle Network Hospitals® raises funds and awareness for 170 member hospitals that provide 32 million treatments each year to kids across the U.S. and Canada. Donations stay local to fund critical treatments and healthcare services, pediatric medical equipment and charitable care. Since 1983, Children's Miracle Network Hospitals has raised more than $5 billion, most of it $1 at a time through the charity's Miracle Balloon icon. Its various fundraising partners and programs support the nonprofit's mission to save and improve the lives of as many children as possible. Find out why children's hospitals need community support, identify your member hospital and learn how you can Put Your Money Where the Miracles Are, at CMNHospitals.org and facebook.com/CMNHospitals.