Big Family Game Night!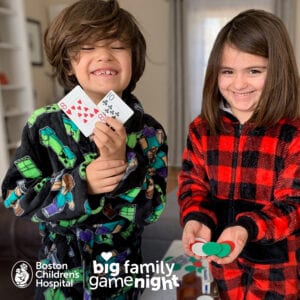 Help save lives from your couch! Join us on April 17th for Big Family Game Night and help kids and caregivers at Boston Children's Hospital.  While caregivers work to save lives every day, let's make the most of our time at home.  Play through Extra Life and fundraise—and help make this Friday the city's biggest game night ever!
What you can do:  Help make this the big.
Sign up: http://bostonchildrens.org/extralife
Donate what you can to help kids and caregivers
Play any game (board, card, video) you want this Friday at home or online and fundraise!
Encourage friends, family and donors to join us. Help us make this the biggest game night ever!
Bostonchildrens.org/extralife #BigGameNight