20 NFL Players support local CMN Hospitals through My Cause, My Cleats
Hundreds of NFL players have chosen charitable causes to support the NFL's "My Cause, My Cleats" campaign, which allows players to wear custom cleats that represent causes that are important to them during Week 13 of the 2017 season.
This year, 20 players wore cleats to support local Children's Miracle Network Hospitals. These players have all spent time visiting their local hospitals and have developed incredible relationships with patients and their families. Several of them even have inspirational stories about their own children being treated by a CMN Hospital.
Thank you to these players for their continued support "For The Kids!"
Derek Carr – Oakland Raiders Quarterback
Derek Carr had his cleats designed to represent Valley Children's Hospital and his son, Dallas, who was born with intestinal malrotation, a potentially life-threatening congenital anomaly that can cut off blood supply to the intestinal tract. Dallas underwent two more surgeries and spent 23 days in Valley Children's Level IV Neonatal Intensive Care Unit. Carr and his wife, Heather, have been proud supporters of Valley Children's Hospital ever since.
Derek Carr honors his son and the hospital that took care of him with his custom cleats ? #MyCauseMyCleats https://t.co/9UkyxIIpgs pic.twitter.com/iaOs4GBjMg

— Bleacher Report (@BleacherReport) November 28, 2017
See more of Carr's inspirational story in the video below.
Russell Wilson – Seattle Seahawks Quarterback
As a long-time supporter and weekly visitor of Seattle Children's Hospital, Seahwaks QB Russell Wilson wanted to represent the dreams of the kids being treated at Seattle Children's on his cleats. He and the artist behind the cleats walked around the hospital and asked kids what their dreams were. Some of their responses included "building a roller coaster that travels around the world joining us all together" and "swimming and exploring with sharks."
Wilson's cleats are raising awareness for his foundation, Why Not You Foundation, which is dedicated to creating real and lasting change in the world by motivating, empowering and preparing today's youth to be tomorrow's leaders. In 2016, the foundation presented a check for $1 million to Seattle Children's Hospital.
Honored to work with @KateNeckel and Dash Tsai for #MyCauseMyCleats. Read the full story on this year's cleats on TraceMe https://t.co/94TdxAlJat pic.twitter.com/0H0TUpdcao

— Russell Wilson (@DangeRussWilson) November 28, 2017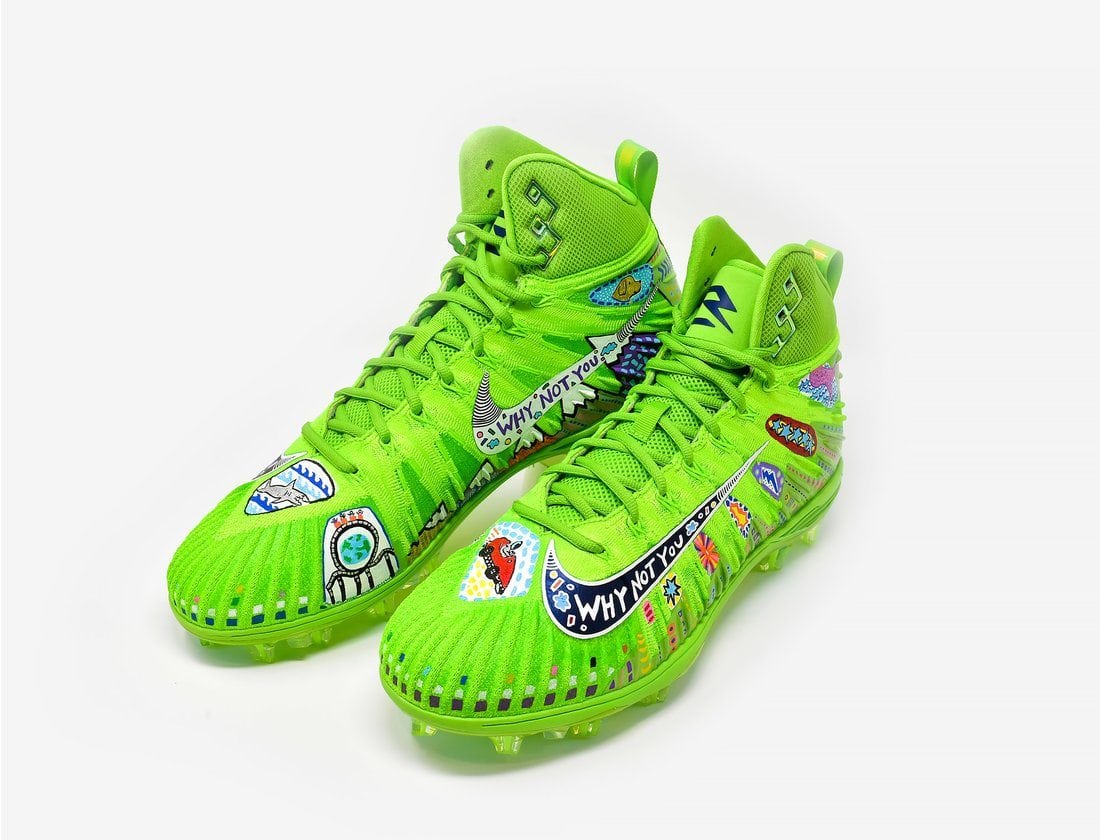 Matt Ryan – Atlanta Falcons Quarterback
When describing why he chose to represent Children's Healthcare of Atlanta on his cleats, Falcons QB Matt Ryan said "as big-time as the NFL is… it pales in comparison to some of the battles that some of these kids are going through. And it pales in comparison to what these doctors and nurses are doing to help save lives and improve the quality of life for children not only in the city of Atlanta but really throughout the Southeast and the entire country. For me, it made me realize that there's a lot more important things in life."
Ryan Kerrigan – Washington Redskins Linebacker
For My Cause My Cleats, linebacker Ryan Kerrigan supported the charity he started back in 2013, Ryan Kerrigan's Blitz for the Better Foundation. Kerrigan's aim is to help children with special needs or who are fighting serious chronic illnesses. In the past, Blitz for the Better opened Kerrigan's Korners, areas in children's hospitals that provide patients and their family members access to electronics during hospital stays. They serve as a source of entertainment, a portal for communication and a diversion during treatment and recovery. Kerrigan's foundation has so far created eight of these locations, including several two local CMN Hospitals, Children's National Health System in Washington, D.C. and Children's Hospital of Richmond at VCU in Richmond, Va.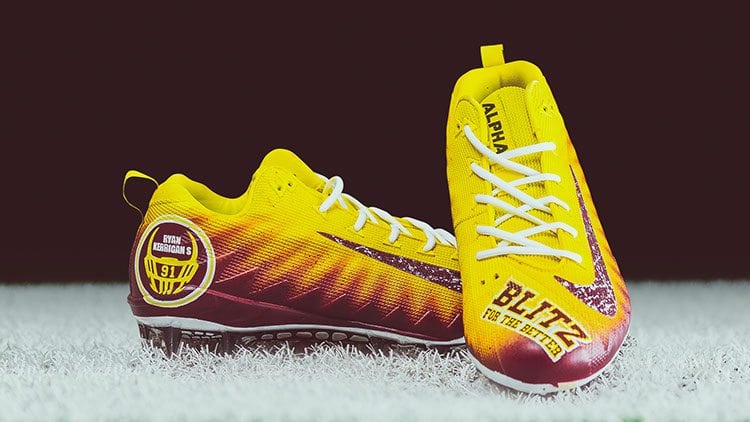 Kurt Coleman – Carolina Panthers Safety
Kurt Coleman decided to support Levine Children's Hospital in Charlotte, N.C. on his cleats, which include superheroes drawn by patients at the hospital. "My father is a cancer survivor," Coleman said. "Helping not only patients but also their families became very important to me after experiencing firsthand the hardships everyone goes through."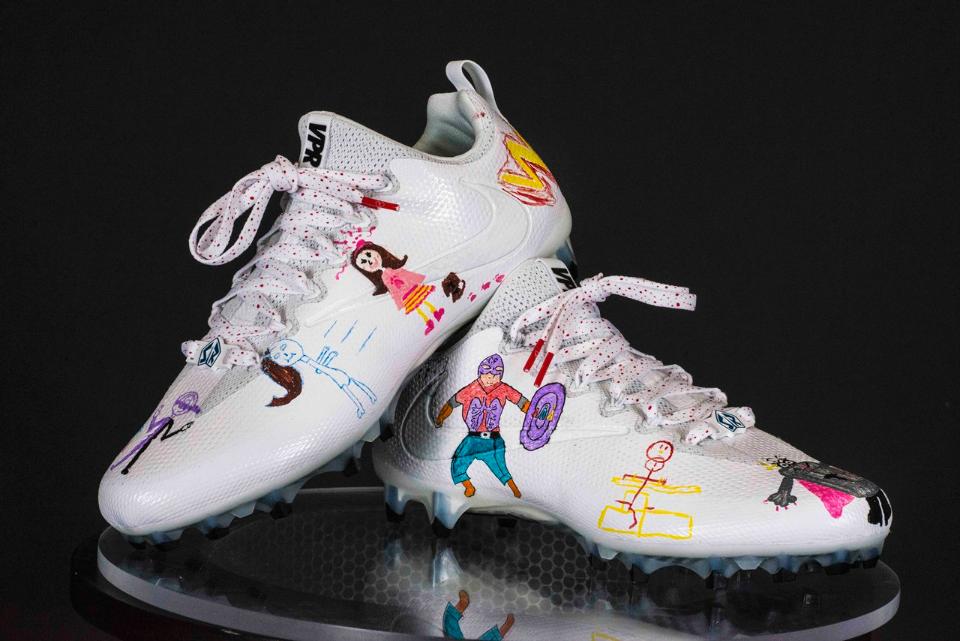 Jack Doyle – Indianapolis Colts Tight End
Colts Tight End Jack Doyle's cleats represented Riley Hospital for Children and a patient named Brody Stephens, who fought leukemia twice. After his 16-month treatment at Riley in his second battle, Brody beat the cancer but sadly passed away from viral complications on April 29, 2017 at the age of eight.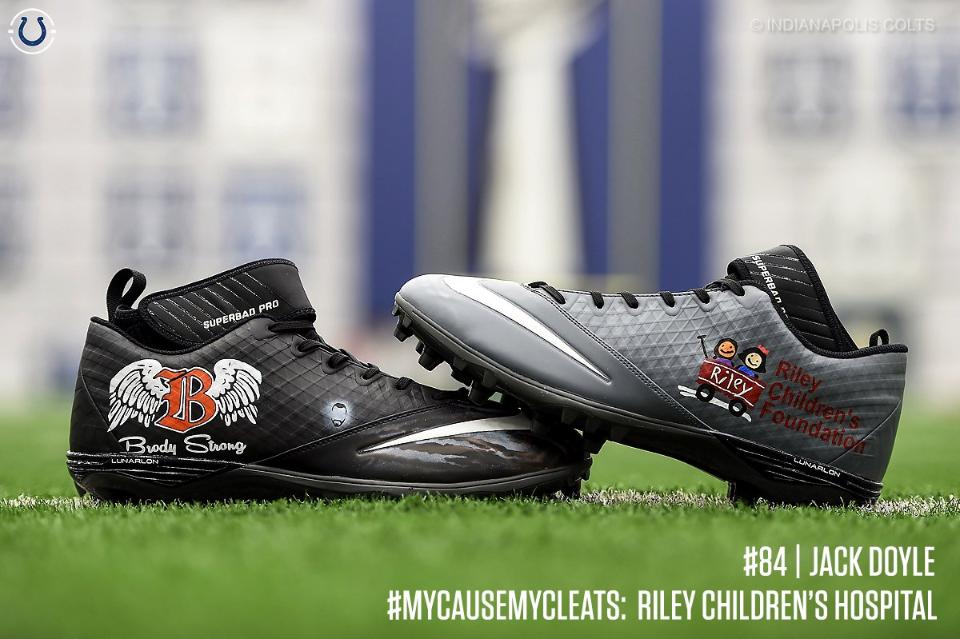 Doyle met Brody and his family while on vacation in 2014. After tossing a football with Brody and his brothers, they formed a special bond and Doyle visited Brody regularly in the hospital. After Brody's passing, his family asked Doyle, along with Indiana Pacers Forward Glenn Robinson III, to serve as a pallbearer at his funeral.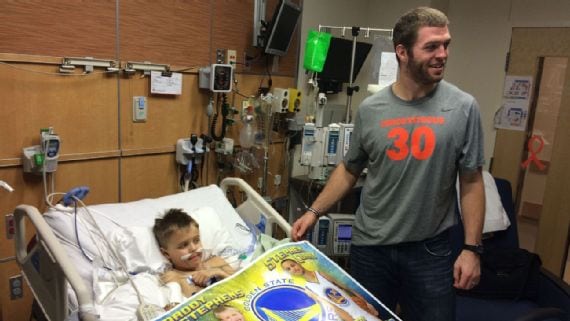 Marlon Mack – Indianapolis Colts Running Back
Doyle's teammate, Marlon Mack, also chose to support Riley Hospital for Children on his cleats this year. The Indianapolis Colts have been proud supporters of Riley Hospital for Children for more than 20 years and invite two pediatric patients to participate in the coin toss at every home game.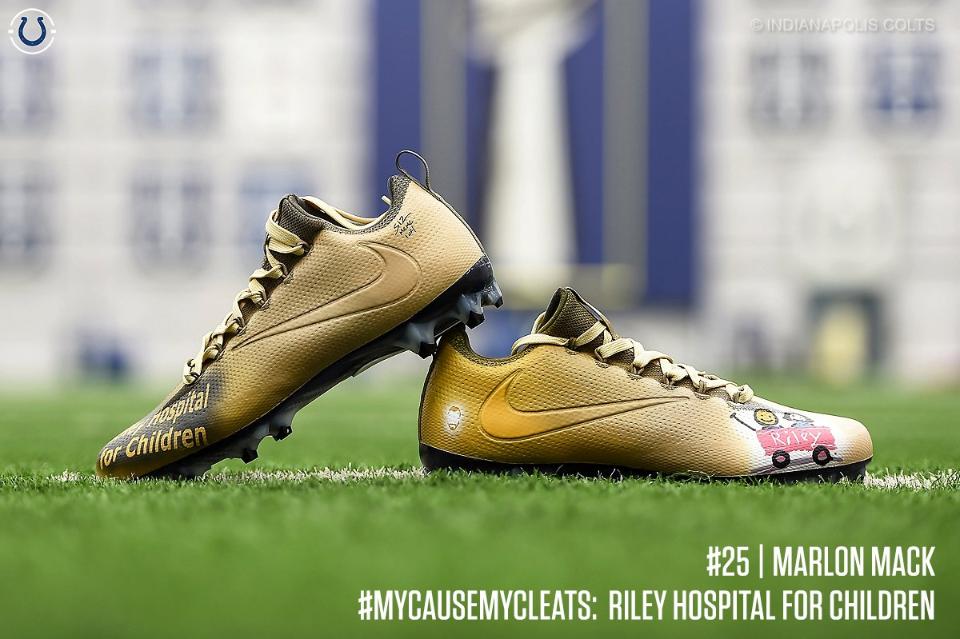 Andy Dalton – Cincinnati Bengals Quarterback
Bengals QB Andy Dalton's cleats are designed to support the Andy & Jordan Dalton Foundation, which Dalton developed with his wife t0 provide daily support, opportunities, resources and life-changing experiences to seriously ill and physically challenged children and their families in Cincinnati and Forth Worth. The Foundation has supported many patients at several local CMN Hospitals.
One program in the foundation called Andy and Jordan's Hub, provides patients and their families access to entertainment and educational resources, including iPads, computers, mobile television and theater systems and gaming consoles to help pass the time during hospital stays. They've set up Hubs at three local CMN Hospitals, including one Hub in the Family Resource Center at Cincinnati Children's Hospital Medical Center, two Hubs at Cook Children's Medical Center in Fort Worth, Texas, and one at Texas Children's Hospital in Houston, Texas.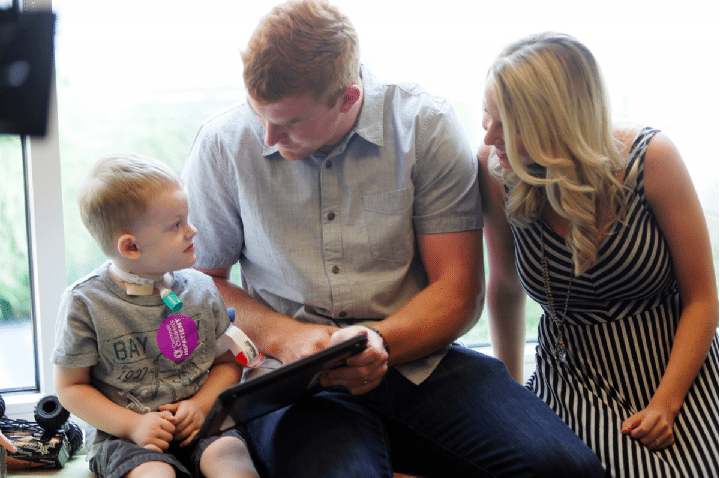 Trevor Siemian – Denver Bronco's Quarterback
"I work with Children's Hospital Colorado. My buddy Christian designed these. Leukemia is what Christian went through, but a lot of folks over there have been really good to me. I have a good thing going with those guys. It's kind of a cool deal. It's a good group. The kids are obviously great, but the staff is great. Just a really good group of people. It helps keep things in perspective for you. It's just such a cool perspective those kids have. You go in there and they're the first to crack a joke or they're smiling. You almost feel selfish going over there because I feel so good leaving after hanging out with those guys. Just really cool people over there." – Trevor Siemian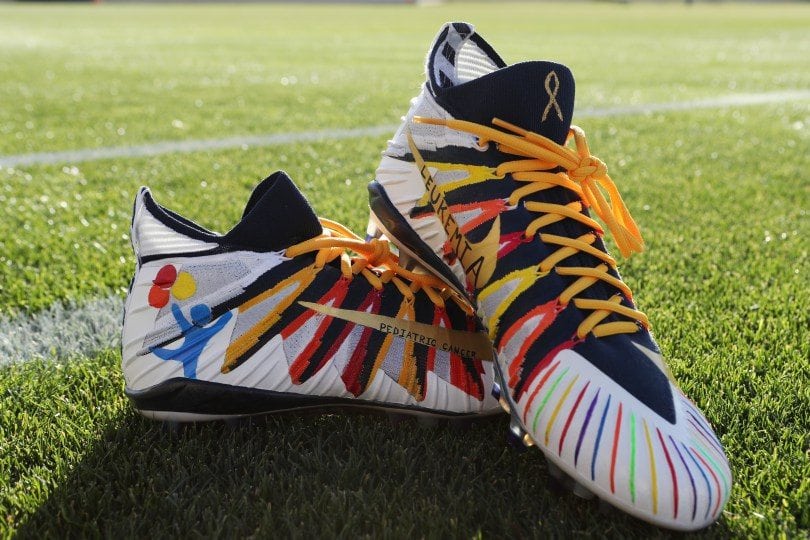 Demarcus Walker – Denver Broncos Outside Linebacker/Defensive End
Siemian's teammate Demarcus Walker also supported Children's Hospital Colorado with his cleats. Walker chose to specifically support the speech therapy program at Children's because he overcame a stuttering programed as a child.
Casey Kreiter – Denver Broncos Long Snapper
Long Snapper Casey Kreiter chose Children's Miracle Network Hospitals as his cause for My Cause My Cleats. Kreiter and his wife gave birth to a son this year and both have spent their time visiting patients at Children's Hospital Colorado.
Tom Savage – Houston Texans Quarterback
Texans quarterback Tom Savage honored his 13-year-old cousin, Sydney, and the Children's Hospital of Philadelphia Leukemia Foundation on his cleats last weekend.
Savage wore bright orange cleats because Sydney is battling leukemia for the second time. Her sister, Hannah, a Drexel basketball player, was her donor for a bone marrow transplant. "It's got little surfboards on it, that's kind of her logo, and it says, 'No one fights alone,'" Savage said. "She's just my biggest idol in this world. She really puts everything in perspective. She's a really tough girl and I couldn't even imagine going through what she's going through at that age.
Texans' Tom Savage to honor ailing cousin with special cleats https://t.co/QD6lxkxzha pic.twitter.com/N6Ef2ynfcd

— Houston Texans (@HoustonTexansRR) November 30, 2017
Shane Vereen – New York Giants Running Back
"I created a funding program because my neighbor David Stroud went through a terrible experience with cancer and passed away at 19 years old while he was in high school. The David Stroud Fund gives back to the Children's Hospital of Los Angeles." – Shane Vereen
Vereen hosts the annual Vereen Playmakers Football Camp as a fundraiser for CHLA and included the hospital's logo and signature butterfly on his cleats.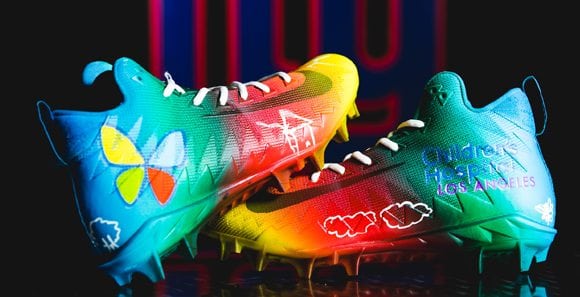 Nate Solder – New England Patriots Offensive Tackle
In October 2015, Patriots Offensive Tackle Nate Solder's son Hudson was diagnosed with bilateral Wilms tumors, a form of kidney cancer found most often in young children and has received of of their care at their local CMN Hospital, Boston Children's Hospital. After a year off of chemo, a scan showed that Hudson's tumors had started growing again and he restarted the weekly chemo treatments this past October.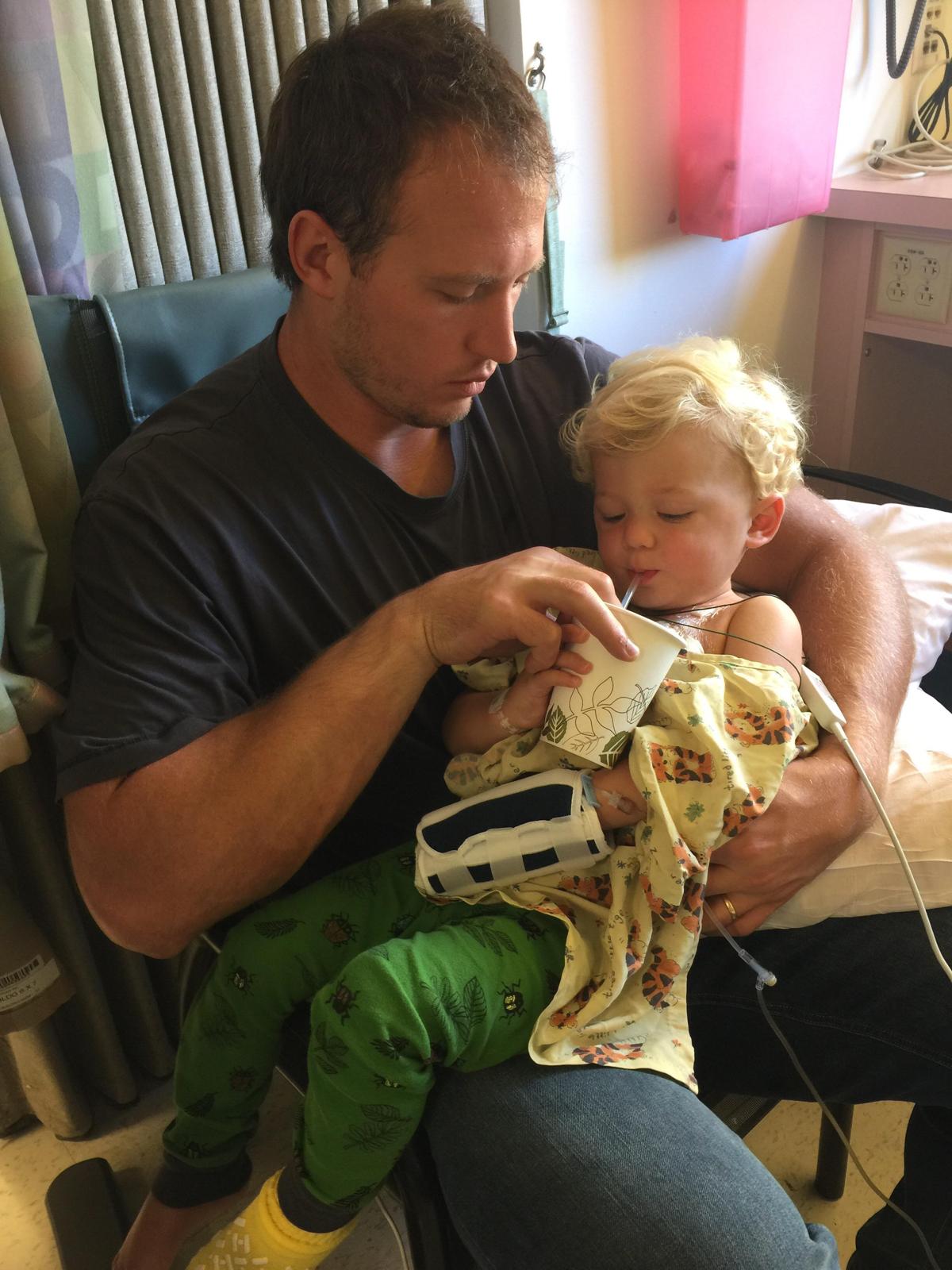 Solder chose to honor his son on his cleats and had them painted gold for Childhood Cancer Awareness.
Here are Nate Solder's Special "cleats for a cause" that he will play in during Sunday's game. Honoring his son Hudson and Childhood cancer #Patriots @soldernate @lexisolder pic.twitter.com/SwdFYvE8SA

— Joe Kayata (@NBC10_Joe) November 29, 2017
Robbie Gould – San Francisco 49ers Kicker
Kicker Robbie Gould may play in San Francisco, but he has dedicated his cleats to Lurie Children's Hospital in Chicago, Ill., which he developed a strong connection to during his 10-year career with the Chicago Bears.
First look at @RobbieGould09's kicks for Week 13 in Chicago supporting @LurieChildrens.#MyCauseMyCleats pic.twitter.com/138QQta9rO

— San Francisco 49ers (@49ers) November 30, 2017
In July, Gould hosted the sixth annual Robbie Gould Celebrity Golf Invitational, which raised over $830,000 for Lurie Children's.
Carson Palmer – Arizona Cardinals Quarterback
Since living in Phoenix, Carson Palmer has been a proud supporter of Phoenix Children's Hospital and has made many trips to visit patients in the hospital.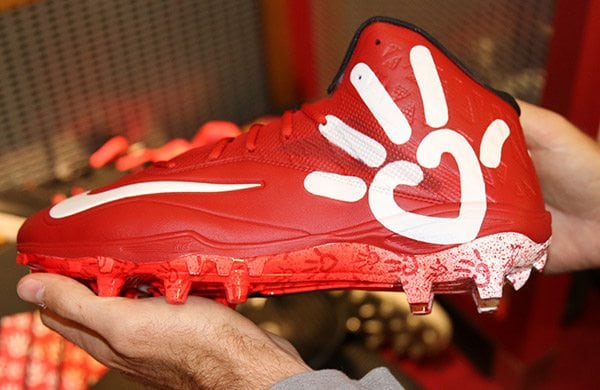 Rodger Saffold – Los Angeles Rams Offensive Guard 
Guard Rodger Saffold chose to support Extra Life, a fundraising program that unites thousands of gamers around the world to play games in support of their local Children's Miracle Network Hospital. Since its inception in 2008, Extra Life has raised more than $30 million for sick and injured kids.
Saffold said that he thought "this was a perfect opportunity to bridge the gap between gaming and football."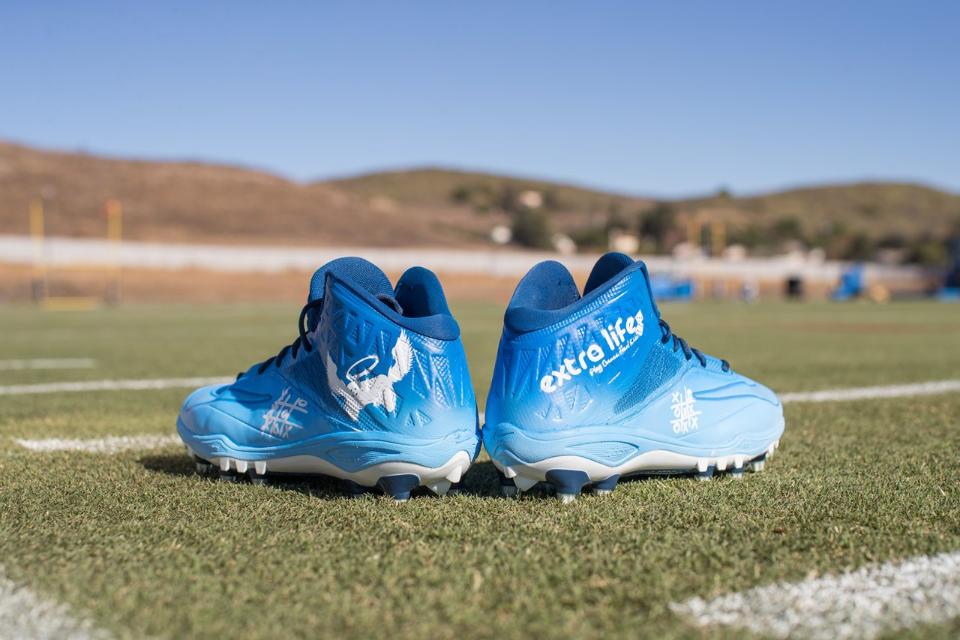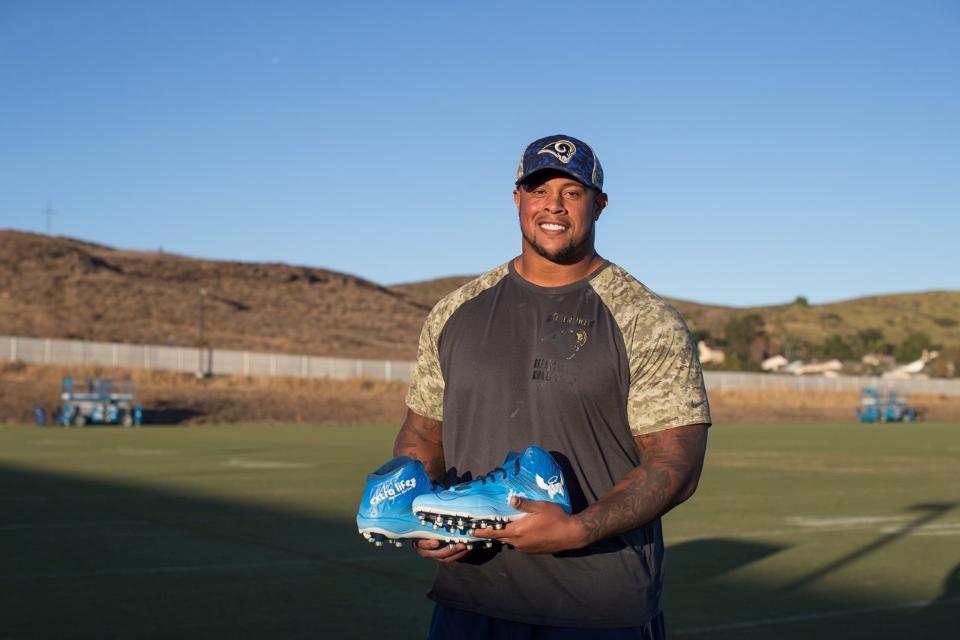 Austin Davis – Seattle Seahawks Quarterback
The Seahawks back-up Quarterback's cleats were designed by a patient at Seattle Children's Hospital named Luke, who Davis met earlier this fall. Davis chose to support Seattle Children's Hospital with his cleats and said "I just wanted to bring a little hope to [Luke] with his life. He's a strong dude, and I have learned a lot from him."
J.R. Sweezy – Tampa Bay Buccaneers Offensive Guard
J.R. Sweezy chose to support Johns Hopkins All Children's Hospital, the local CMN Hospital in Tampa, Fla. as a cause that's close to his heart.
"After having my daughter last year," Sweezy said, "I've grown to care for children even more and I can't imagine what it's like for parents whose kids aren't able to receive the quality care that they need."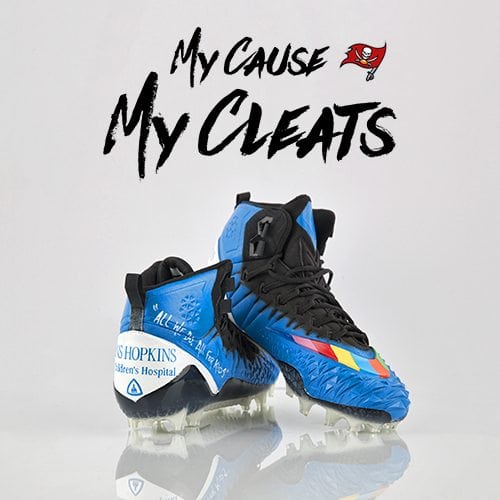 DeShone Kizer – Cleveland Browns Quarterback
Browns QB DeShone Kizer's cleats supported The Andrew Weishar Foundation, which provides financial assistance to families with adolescents or young adults stricken with cancer. Kizer paid a special visit to his local CMN Hospital, UH Rainbow Babies & Children's Hospital, in Cleveland, Ohio to show off his newly designed cleats. Since being drafted by the Browns in 2017, Kizer has been able to dedicate some of his time for visits with patients at the hospital.
---
Children's Miracle Network Hospitals® raises funds and awareness for 170 member hospitals that provide 32 million treatments each year to kids across the U.S. and Canada. Donations stay local to fund critical treatments and healthcare services, pediatric medical equipment and charitable care. Since 1983, Children's Miracle Network Hospitals has raised more than $5 billion, most of it $1 at a time through the charity's Miracle Balloon icon. Its various fundraising partners and programs support the nonprofit's mission to save and improve the lives of as many children as possible. Find out why children's hospitals need community support, identify your member hospital and learn how you can Put Your Money Where the Miracles Are at cmnhospitals.org and facebook.com/CMNHospitals.