Miracle Madness: See How the Schools in this Year's Tournament are Making a Difference for Local Children's Hospitals
Over the course of the 2016-2017 school year, 43 of the 68 colleges and universities involved in the 2017 NCAA Men's Basketball Tournament also hosted Miracle Network Dance Marathon events that collectively raised over $9.52 million dollars for local Children's Miracle Network Hospitals!
Miracle Network Dance Marathon is an international movement represented on over 300 college and university campuses in the U.S. and Canada. Throughout the year, the students involved in Dance Marathon work to raise funds and awareness, with 100% of the funds going directly to their local hospital to help the kids in their communities fight illness and injuries.
In 2016 alone, Miracle Network Dance Marathons raised over $32.4 million dollars for CMN Hospitals.
Vote for your favorite school to win a $5,000 donation toward their Miracle Network Dance Marathon fundraising total HERE.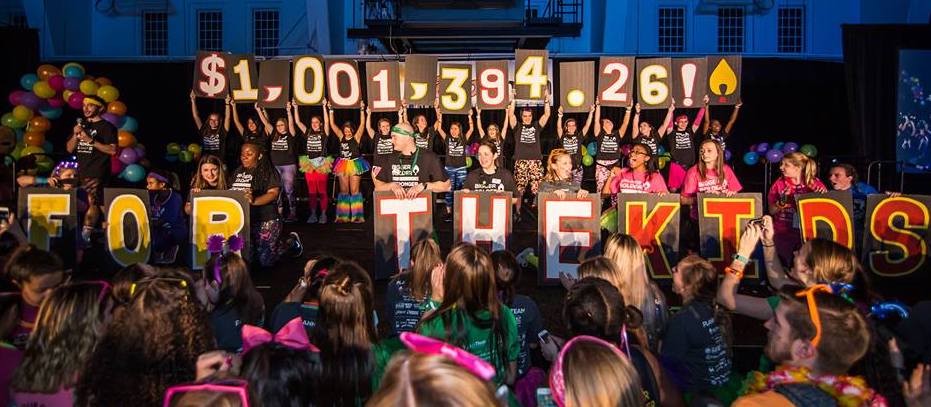 Check out how the 2017 March Madness tournament teams made a difference at their local hospitals below:
| | Dance Marathon | Total Raised in 2016/2017 | Local Hospital |
| --- | --- | --- | --- |
| | Baylor University: BU-THON |  $11,907.00 |  McLane Children's |
| | Butler University Dance Marathon |  $402,440.01 |  Riley Hospital for Children |
| | Creighton University Dance Marathon |  $47,847.16 |  Children's Hospital & Medical Center (Omaha) |
| | Duke University DevilThon |  $50,127.00 |  Duke Children's Hospital |
| | Dance Marathon at Florida Gulf Coast University |  $52,000.00 |  Johns Hopkins All Children's Hospital |
| | Dance Marathon at Florida State University |  $1,830,167.28 |  UF Health Shands Children's Hospital |
| | Gonzaga University Dance Marathon |  $76,592.98 |  Sacred Heart Children's Hospital |
| | Iona College: IonaTHON |  $18,726.00 |  Maria Fareri Children's Hospital |
| | Iowa State University Dance Marathon |  $293,094.20 |  University of Iowa Stead Family Children's Hospital |
| | Kansas State University: K-State Dance Marathon |  Coming fall 2017! |  St. Francis Health |
| | Kent State University: KSU Flash-A-Thon |  $31,264.42 |  Akron Children's Hospital |
| | Marquette University Dance Marathon |  $52,047.16 |  Children's Hospital of Wisconsin |
| | Michigan State University Dance Marathon |  $30,261.61 |  Sparrow Children's Center |
| | Middle Tennessee State University: Raiderthon |  $3,301.56 |  Monroe Carell Jr. Children's Hospital at Vanderbilt |
| | New Mexico State University: AggieTHON |  $7,246.00 |  UNM Children's Hospital |
| | Oklahoma State University: CowboyThon |  $161,204.17 |  The Children's Hospital at OU Medical Center |
| | Purdue University Dance Marathon |  $1,060,247.16 |  Riley Hospital for Children |
| | South Dakota State University State A Thon |  $95,807.44 |  Sanford Children's Hospital |
| | Dance Marathon at Southern Methodist University |  $32,221.52 |  Children's Health |
| | University of Arkansas: Hogs for Hope |  $32,950.60 |  Arkansas Children's Hospital |
| | University of California, Davis: Davis Dance Marathon |  $3,600.00 |  UC Davis Children's Hospital |
| | University of Cincinnati Dance Marathon |  $56,878.65 |  Cincinnati Children's Hospital |
| | University of Dayton: UD Miracle |  $40,539.53 |  Dayton Children's Hospital |
| | Dance Marathon at the University of Florida |  $2,434,315.18 |  UF Health Shands Children's Hospital |
| | University of Kansas: KU Dance Marathon |  $94,657.68 |  KU Medical Center |
| | University of Maryland: Terp Thon |  $1,001,394.26 |  Children's National Health System |
| | University of Miami: CanesTHON |  $16,011.41 |  Nicklaus Children's Hospital |
| | Dance Marathon at the University of Michigan |  $475,807.05 |  Beaumont Children's Hospital |
| | University of Minnesota: Minnesota Dance Marathon |  $18,345.54 |  Gillette Children's Speciality Healthcare |
| | University of Nevada, Reno: Wolf Pack Dance Marathon |  $19,023.45 |  Renown Children's Hospital |
| | University of North Carolina Wilmington: DubThon |  $32,534.21 |  Duke Children's Hospital |
| | Dance Marathon at the University of North Dakota |  $4,112.71 |  Sanford Medical Center |
| | University of Oregon Dance Marathon |  $23,501.69 |  PeaceHealth Sacred Heart Medical Center |
| | University of South Carolina Dance Marathon |  $703,289.00 |  Palmetto Health Children's Hospital |
| | University of Southern California: Trojan Dance Marathon |  $33,687.97 |  Children's Hospital Los Angeles |
| | University of Vermont: RALLYTHON |  $76,079.74 |  University of Vermont Children's Hospital |
| | Dance Marathon at the University of Virginia |  $70,078.16 |  University of Virginia Children's Hospital |
| | Vanderbilt University Dance Marathon |  $230,099.16 |  Monroe Carell Jr. Children's Hospital at Vanderbilt |
| | Virginia Commonwealth University: RamTHON |  $21,694.55 |  Children's Hospital of Richmond at VCU |
| | Dance Marathon at Virginia Tech |  $12,694.55 |  Carilion Children's Hospital |
| | West Virginia University: MountaineerThon |  $40,022.90 |  WVU Medicine Children's |
| |  Wichita State University: SHOCKERTHON |  $100,236.37 |  Via Christi Hospitals in Wichita |
| |  Xavier University Dance Marathon |  $23,470.49 |  Cincinnati Children's Hospital |
---
Learn more about Miracle Network Dance Marathon: