Fuel Miracles @Speedway This Weekend! April 29-May 1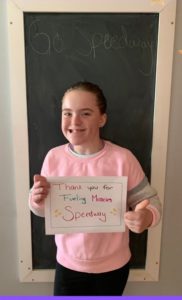 It's time to fuel miracles and save lives for kids treated at Boston Children's Hospital!
Thanks to the generosity of Speedway customers this weekend, donations collected from April 29th through May 1st will make a difference in our community by raising funds to improve medical treatments, equipment, and patient programs. These funds allow Boston Children's to address the most challenging health issues of today but also to prevent and prepare for those to come.
Through these donations, our hospital is able to provide treatments and healing that our patients desperately need today so that they can fulfill their potential for tomorrow.
Patients like Emma. After being born early with severe airway complications, Emma needed pioneering care only available at Boston Children's. She was one of the first patients to have a minimally invasive surgery to connect an opening in her airway—and underwent a procedure invented at Boston Children's so she could breathe easier.
Now, Emma gets monthly transfusions to help fight infections, and meets each day with a smile and a song thanks to your support.
Speedway's partnership with Children's Miracle Network Hospitals began in 1991 and has since raised more than $133 million for the children's charity through various fundraising activities. The majority of funds come from year-long canister collection and pin pad prompts at the point of sale, company-wide campaign weekends for their local CMN hospital, in addition to other localized campaigns.
Thanks to Speedway customers in Massachusetts and New Hampshire for helping Change Kids' Health and Change the Future for kids treated at Boston Children's Hospital.
To find a location near you visit our Shop & Give Back page.