Dairy Queen in Laconia, NH raises over $5,000 with their own Miracle Treat Day for Boston Children's Hospital
We scream, you scream, we all scream for Dairy Queen! Even with Miracle Treat Day not being a national event this year due to Covid, that didn't stop Dairy Queen in Laconia, New Hampshire from raising money for the kids! They hosted their own Miracle Treat day on August 27th and donated $1 for each Blizzard sold that day. They also had raffles with donations from local business that people could enter to win! With raffles, ice cream and miracles, what's not to love! By the end of the day, they had raised $5,882.00 for the kids at Boston Children's Hospital! Thank you to the owners of Dairy Queen Laconia, Mike and Michele, as well as the entire Laconia community for going above and beyond for the patients at Boston Children's Hospital. What an incredible event with an inspiring message that all things are possible no matter the circumstances!
Special thanks to the local business that donated items to this event:
South End Pizza and Seafood
Watermark Marine
Jeff Levitan and Fred Caruso from Mix 94.1 FM
Pepsi Cola
Alan MacRae Photography
Johnson Seafood
Tilton House of Pizza
Smitty's Cinema
Ridgewood Country Club
Lakes Region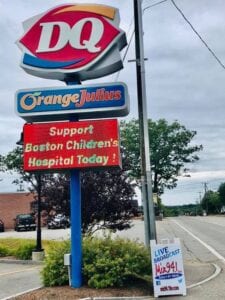 Make sure to check out their Facebook page to see more miracles from Dairy Queen Laconia!!
https://www.facebook.com/DairyQueenLaconia